Windsor is central to the tri-city area formed by Greeley, Loveland and Fort Collins. The city's central location and easy access to I-25 have lead to rapid, strategic growth in the last decade.
With a population of just over 15,000 residents (latest Chamber of Commerce projection), the city has over 116 acres dedicated to parks. Click here to read about the existing parks as well as the new parks currently being built.
There are three championship quality golf courses right in Windsor. Pelican Lakes Golf Course, located in the Water Valley development, has the most waterfront greens of any course in the United States. Click here to visit the city website!
City Website: http://www.windsorgov.com
County: Weld
Elevation: 4,800 ft
Square Miles (land): 24.62
Population: 18,644
Male Population (%): 49.8%
Female Population (%): 50.2%
Median age of Windsor residents in 2009: 33.3
Median Household Income (2005-2009): $75,267
* Data pulled from 2010 Census unless otherwise indicated.
Location, Location, Location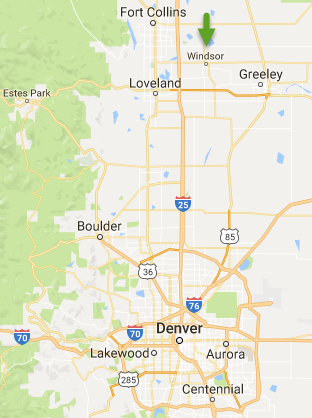 Relatively Speaking
City
Miles
Minutes
Loveland
14
20
Greeley
14
20
Fort Collins
14
20
Estes Park
40
69
Boulder
48
60
Metro Denver
50
60
Cheyenne, WY
50
53
Denver Int'l Airport
60
60
* Nearby Airports: The Loveland-Fort Collins Municipal Airport is jointly owned by the cities of Loveland and Fort Collins. The Denver International Airport is located just 60 miles south of Loveland.
Employment Resources
Windsor Chamber of Commerce
Upstate Colorado
Northern Colorado Economic Alliance
Education
Weld County RE-4, Windsor Charter Academy
Nearby Higher Education: Colorado State University – 15 miles (Ft. Collins); University of Northern Colorado – 15 miles (Greeley); Front Range Community College – 15 miles (Ft. Collins); Aims Community College, Main Campus – 15 miles (Greeley); and Aims Community College, Automotive Technical Center (Windsor)
Weather
Windsor, CO Weather Facts
Sunny, moderate, low-humidity, four season climate.
Annual Days of Sun: 300 days.
Avg. Summer Temp: 85°F
Avg. Winter Temp.: 45°F.
Avg. Annual Snowfall: 49.7 in.
Avg. Annual Precipitation: 15.0 in.