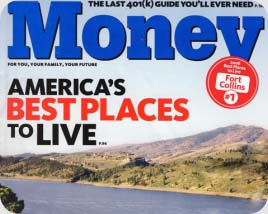 Welcome to the "Choice City"! Nestled beside the foothills of the Rocky Mountains and home to Colorado State University, Fort Collins has something to offer everyone.
Residents here enjoy the best of the outdoors and city living. From town you have easy access to camping, hiking, snowboarding, downhill and cross-country skiing to rafting, fishing, or water skiing. In addition, the city has several shopping malls, hundreds of restaurants, six movie complexes, a regional cultural center, and several arts and entertainment venues. Best of all, over 300 days of sunshine allow residents to enjoy the best of Fort Collins year-round.
Fort Collins is located just 65 miles north of Denver, Colorado's capital, and is easily accessible by car, bus, or air travel. An hourly shuttle service provides convenient transportation to and from the Denver International Airport.
Community Website: www.fcgov.com
County: Larimer
Elevation: 5160.0 ft
Square Miles (land): 56.78 square miles (2015)
Population: 158,600 (2015)
Male Population (%): 49.9
Female Population (%): 50.1
Median Household Income: $76,341 (American Community Survey, 2008-12)
Founded: Founded as a military fort in 1864, incorporated as a town in 1873.
* Data pulled from U.S. Census unless otherwise indicated.
Location, Location, Location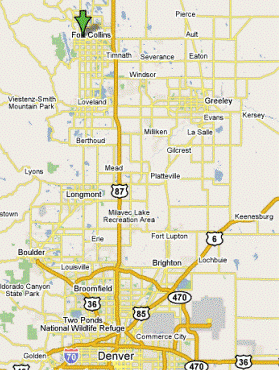 Relatively Speaking
City
Miles
Minutes
Loveland
8
10
Greeley
29
35
Estes Park
42
60
Windsor
10
15
Boulder
46
60
Metro Denver
62
75
Cheyenne, WY
45
60
Wellington
10
15
Denver Int'l Airport
75
90
* Nearby Airports: The Fort Collins-Loveland Municipal Airport is jointly owned by the cities of Fort Collins and Loveland. The Denver International Airport is located just 75 miles south.
Employment Resources
Fort Collins Chamber of Commerce
Larimer County Workforce Center
Northern Colorado Economic Alliance
Education
K-12: Poudre School District
Higher Education: Colorado State University
Community College: Front Range Community College
Weather
Fort Collins, CO Weather Facts
Average Days of Sun: 300 days
The average warmest month is July.
The highest recorded temperature was 105°F in 2005.
On average, the coolest month is January.
The lowest recorded temperature was -31°F in 1990.
The maximum average precipitation occurs in May.