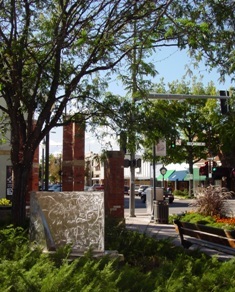 Natural beauty, creative expression, compassion, healthy living, and civic participation capture the spirit of Loveland, CO. Bordered by the Rocky Mountains to the west and the plains to the east, Loveland rests 50 miles north of metro Denver.
Residents here enjoy a variety of festivals, events, clubs, business organizations, government boards and commissions, personal interest classes, volunteer organizations, and higher education. In 1985, Loveland was the first city in Colorado to adopt an Art in Public Places ordinance, designating one percent of the city's capital construction projects of $50,000 or more for the purchase of art. The city has 26 parks, approximately 15.5 miles of recreation trail, 3 golf courses, several arts and entertainment theatres, and easy access to shopping. Loveland truly is a natural choice for residents.
Community Website: www.ci.loveland.co.us
County: Larimer
Elevation: 4,982 ft
Square Miles (land): 33.59
Population: 75,182 (2015)
Male Population (%): 48.3
Female Population (%): 51.7
Median Age: 36.0 years old (City-Data.com)
Median household income (2010-2014): $55,580
* Data pulled from the U.S. Census unless otherwise indicated.
Location, Location, Location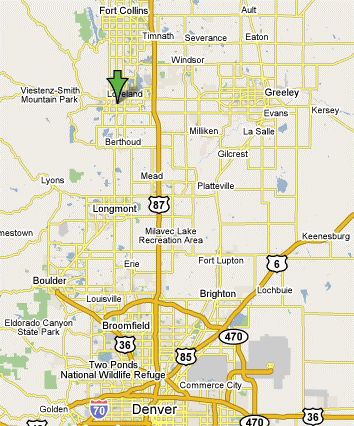 Relatively Speaking
City
Miles
Minutes
Fort Collins
8
10
Greeley
20.55
29
Estes Park
30.17
52
Windsor
15.10
22
Boulder
41.90
47
Metro Denver
50.37
53
Cheyenne, WY
58.53
57
Wellington
26.42
28
Denver Int'l Airport
56.40
53
* Nearby Airports: The Fort Collins-Loveland Municipal Airport is jointly owned by the cities of Fort Collins and Loveland. The Denver International Airport is located just 75 miles south.
Employment Resources
Loveland Chamber of Commerce
Larimer County Workforce Center
Northern Colorado Economic Alliance
Education
K-12: Thompson School District
Community College: Aims Community College, Front Range Community College, Regis University
Weather
Loveland, CO Weather Facts
Sunny, moderate, low-humidity, four season climate.
Annual Days of Sun: 300 days.
Annual Precipitation: 13.98in
Average Relative Humidity-Summer: 30%
Average Relative Humidity-Winter: 43%
Average temperatures July: Avg. High 86.2°F / Low 56.8°F.
Average temperatures January: High 41.9°F / Low 14.5°F.
Additional Links & Resources