Adam and Katie Federer
"Where do I even start, the only reason that my husband and I are relaxing in our new beautiful home right now is due to the hard work and dedication of this wonderful homes for heroes team that consists of Dawn Mathis, our realtor, and Sue Mireles our lender. Together they were able to quickly orchestrate and coordinate all documents, letter etc needed to ensure that we were able to purchase this house in this quick selling market. They were also amazing mentors for us as first time homebuyers and were supportive every step of the way at any hour of the day. My husband and I are both health care workers, he is a nurse and I am a physical therapist. Our realtor Dawn is a retired PT and just like she used to advocate for her patients she now advocated for her clients and Sue was dealing with a family member with health issues during our buying process and we were really able to relate to how hard that is. In the end we received a significant rebate back from our homes for heroes team because we work in health care. In addition to these funds, which helped immensely, there was also an element of gratitude towards us being heroes, which made us very proud. This experience and this team far surpassed our expectations and we would highly recommend them."
---
John Thieszen, M.D.
Rocky Mountain Hospitalists, PLLC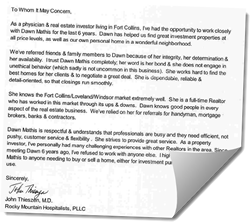 "To Whom It May Concern,

As a physician & real estate investor living in Fort Collins, I've had the opportunity to work closely with Dawn Mathis for the last 6 years. Dawn has helped us find great investment properties at all price levels, as well as our own personal home in a wonderful neighborhood.

We've referred friends & family members to Dawn because of her integrity, her determination & her availability. I trust Dawn Mathis completely; her word is her bond & she does not engage in unethical behavior (which sadly is not uncommon in this business). She works hard to find the best homes for her clients & to negotiate a great deal. She is dependable, reliable & detail-oriented, so that closings run smoothly.

She knows the Fort Collins/Loveland/Windsor market extremely well. She is a full-time Realtor who has worked in this market through its ups & downs. Dawn knows good people in every aspect of the real estate business. We've relied on her for referrals for handyman, mortgage brokers, banks & contractors.

Dawn Mathis is respectful & understands that professionals are busy and they need efficient, not pushy, customer service & flexibility. She strives to provide great service. As a property investor, I've personally had many challenging experiences with other Realtors in the area. Since meeting Dawn 6 years ago, I've refused to work with anyone else. I highly recommend Dawn Mathis to anyone needing to buy or sell a home, either for investment purposes or for personal use."
---
MT
"Hi Dawn, I want to Thank You for hanging in there with me on the sale of my rental home. Since I live out of town, you came to my rescue when needed. Your help with the tenants, contractors, and anything else I needed was invaluable. Your proactive approach with other brokers is what got the sale done. Because of your hard work and confidence, I would definitely recommend you to anyone who is looking for a broker in the Northern Colorado."
---
Roger Nickerson & Donna Myhr
"We have known Dawn for about 4 years first as a physical therapist an then when Donna and I started looking for a house together. While we where looking for a house Dawn was very patient and took the time to understand our wants and needs, because we where looking for just the right house. I am disabled and don't walk very well so we needed a house that was accessible, we were combining two households and at our age we have got a lot of stuff and we have five kids and six grand kids. So we need a bigger house to accommodate visits and holidays. After looking at several houses in Loveland and Fort Collins we found the right home. There were three offers the first day this home went on the market, Dawn was incredible working with their real estate agent and the owners and they accepted our offer. Then she was with us every step of the way to closing. She works very hard for her clients to find the right home. We would recommend her to every one that's looking for the right home."
---
Earlene Backes
"Dawn, I just wanted to let you know how much I appreciate the caring and professional manner in which you handled the recent sale of my home. Thank you very much for all the special extras, like hand delivering figures to my financial advisor and supplying a complementary "stager" to help get the house ready to show. Please feel free to use my name as a referral. I would be happy to recommend you to future clients."
---
Matt McCartney
"Having worked with Dawn for the better part of the last 7- years I can highly recommend her as the most knowledgable and energetic Realtor in the area."
---
Melanie Keech
"Dawn helped me buy a rental property earlier this year. She was very professional and patient with the process and I would recommend her to anyone who needs a realtor. Dawn also specializes in assisting seniors, so she is a perfect fit for my clients."
---
Jen Lowe
"I think very highly of Dawn Mathis and have enjoyed knowing and working with her on community-based projects. She is a great individual who takes her work as a real estate agent and gives back to the GLBT community through both financial and in-kind contributions. I strongly recommend Dawn as a professional and as a person to simply know! She is one of a kind and you will experience the best from working with her."
---
Donna Forbes
"Dawn is a detailed oriented agent with great instincts about her clients' needs and how to serve them in the most creative ways possible. In other words, she thinks way outside the box."
---
Bill Staples
"Dawn utilizes a thoughtful, creative, out-of-the-box apporach toward analyzing investment in real estate. She is an expert in her field and knowledgeable of Northern Colorado. It's a pleasure to recommend Dawn Mathis!"
---
Frank and Kay Gillespie
"Dawn served as our realtor in selecting and purchasing a second home, a vacation retreat. We were delighted with her services in every way. She is, above all, a kind, caring, and ethical person; and we felt that she very much worked for us, in our interests. We appreciated her deep knowledge. and we recommend her most highly and without reservations. We are considering selling our home and will most certainly work with Dawn again."
---
Katie Stieber
"Dawn is full of energy, is fully committed to everything she does and goes the extra mile. Our business dealings have been full of creativity, well directed and quite successful."
---
Gary Rogers
"I know to Dawn to be dedicated to her clients and to her profession. She works very diligently to ensure her clients best interests are being served. She has a health provider background and utilizes those experiences to maximize her effectiveness with her clients.

She is also curious by nature and studies the profession of Real Estate and is regularly looking for ways to enhance and advance her skills and abilities. If you are working with Dawn you will get 110%."